On the 15th September, we've had an organised trip to the Como lake with Scuola Leonardo da Vinci Milan. We had our meeting point at 9:30AM then we caught the train heading to Como at 9:40 AM. After a pleasant 1 hour trip we've arrived to the adorable town of Como. Even its "central station" ws adorable: just had two platforms.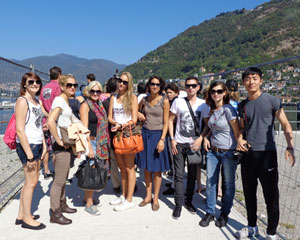 The Y-shape lake of glacial origin has interesting history and facts: it is the third biggest lake in Italy and the deepest point at Argegno, reaches 410 metres.
Till we've waited for those who have missed the train, had a short, 1,5 hours sightseeing in the historic centre of Como.  After a few minutes walk from the central station, we've reached the "main square", Piazza Cavour, which opens to the lake. Just by a few minutes walk from Piazza Cavour, we've reached Piazza Duomo (Dom Square) where we can find the "Duomo" – Cathedral of Como (with characteristics of both renaissance and gothic style) and the cityhall surrounded by some really nice restaurants and cafés situated great atmosphere.
Our next stop was at Piazza San Fedele, where you can find "Chiesa San Fedele" and discover the charming buildings remained in their original style, from the medieval times. It's really interesting to see how modern and medieval times meet: we've entered a bookshop (Libreria Ubik) where you can find medieval ruins, besides the books. After a short walk at Via Cesare Cantù, where you can find a tower which remained from the medieval wall of the town, we went back to Piazza Cavour to find the others and catch a boat to Cernobbio.
After the around 20 minutes boattrip, we've made a short sightseeing in Cernobbio, the 3rd biggest town of Como Lake and caught a boat back to Como. We've returned to Piazza Duomo to have a lunchbreak. We had great, real Italian pasta and lasagne for lunch just a street away from Piazza Duomo, in a nice, relaxing environment.
In the afternoon we had a huge walk on the bank of the lake, reaching Tempio Voltiano which is a museum dedicated to Alessandro Volta, famous physicist, inventor of battery. Our final destination was the park of Villa Olmo and the beach at the bank of Como Lake. Fortunately Villa Olmo gave place to an open wedding exhibition, so we could admire also inside this beautiful building and it's ceiling covered by frescos.
After our one-day trip we've reached our train back to Milan a bit tired but very satisfied. I can just recommend everybody not to miss any chances to visit Como at least once.
Agnes, Budapest.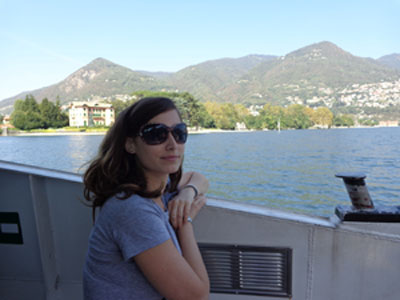 Scuola Leonardo da Vinci Milan is located in the city center in "Crocetta" district known for its liveliness, style and culture attractions.

Thanks to its prestigious universities and academies, Milan is the elected place of education for numerous Italian and international students.
Latest posts by Scuola Leonardo da Vinci Milan (see all)