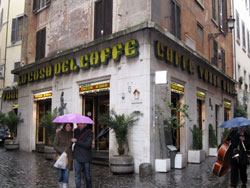 Oggi parliamo della bevanda più amata dagli italiani.  Il caffè in Italia è simbolo di pausa, di chiacchiera al bar. È proprio qui infatti che la bevanda rivela il suo carattere di socialità. Bere insieme un buon caffè significa entrare in intimità, vivere un piacere, condividere un momento, una pausa. Insomma il caffè per gli italiani è un rito che si concedono più di una volta al giorno, forse proprio per questo in Italia si beve l'espresso e lo si fa rigorosamente in piedi, al bancone.
Dove prendere un caffè a Roma?
Senza dubbio una vera attrazione da non perdere è la Tazza D'Oro a via degli Orfani, di fronte al Pantheon. Qui si gusta un caffè tra i migliori di Roma per aroma e gusto, ma si può anche comprarlo in chicchi nella piccola torrefazione dello spaccio interno. Come non ricordare poi il famosissimo bar Sant'Eustachio, un pezzo di storia che nasce negli anni '30 come torrefazione a legna proprio di fronte al Senato. Questo bar, che sembra mantenere intatta la tradizione negli arredi anni '70, è noto per la miscela particolare che utilizza, una ricetta su cui si fanno mille ipotesi, ma che rimane un segreto che pochi conoscono e custodiscono gelosamente.
Se invece volete fare un salto indietro nel tempo e avere la sensazione di bere caffè con i personaggi che hanno fatto la storia, non potete trascurare una visita al bar Caffè Greco in via dei Condotti. E ancora, non lasciate Roma senza essere passati per il Caffè della Pace in via della Pace, dietro Piazza Navona, un bar frequentato spesso da artisti.
Come si ordina il caffè a Roma?
E sì, perché se  avete sempre creduto che il barista sia una professione che possono fare tutti, vi sbagliate. A Roma, il momento della semplice ordinazione di un caffè può diventare una vera prova di abilità e pazienza: "Vorrei un caffè lungo macchiato caldo", "per me caffè doppio macchiato con la schiuma", "io lo prendo al vetro e ristretto!". Persino chi , ormai in minoranza, si ostina ancora a prendere il classico caffè, si sente in dovere di specificare "per me normale".
E se pensate di cavarvela cambiando città, vi sbagliate, perché cambiano i nomi ma non le abitudini. E così, se vi trovate a Firenze il caffè lungo diventa alto, e quello ristretto diventa basso.
Per non parlare poi di Napoli, ma questa è un'altra storia….

City of God, the Sacred City, the City of the Seven Hills or simply… Rome!

The Eternal City has known it all. Victory and defeat, joy and tragedy, glory and humility marked Rome's history, culture and architecture. A magical place with vibrant, timeless lifestyle with countless secrets waiting to be discovered.

The Scuola Leonardo da Vinci is situated in the centre of Rome, in the pedestrian area, halfway from the astounding Piazza Navona, Castel S. Angelo and St. Peter Basilica. It is one of the largest schools in Rome.

We, from Leonardo da Vinci School have one mission – to introduce you to this exciting urban symphony. Every year thousand of students from more than 90 countries jump into this adventure hand in hand with us. Leonardo da Vinci School is not only leading language institute, but centre of Italian culture and lifestyle. We match our vast experience with our student' eagerness to know and learn and together we make it happen.





Latest posts by Scuola Leonardo da Vinci Rome (see all)