"Oh, pensa a come sarebbe bello se potessimo passare attraverso lo specchio! Sono sicura che ci sono delle cose bellissime là dentro!"

È con queste parole che Lewis Carroll, nel libro Alice attraverso lo specchio, immagina di poter raggiungere una dimensione fantastica, dove possiamo trovare tutte quelle cose che sono capaci di renderci felici. Se dovessimo immaginare un simile luogo, allora vorremmo essere teletrasportati in un'enorme biblioteca, dove ogni parete, ogni angolo, è pieno di libri di qualsiasi genere e provenienza.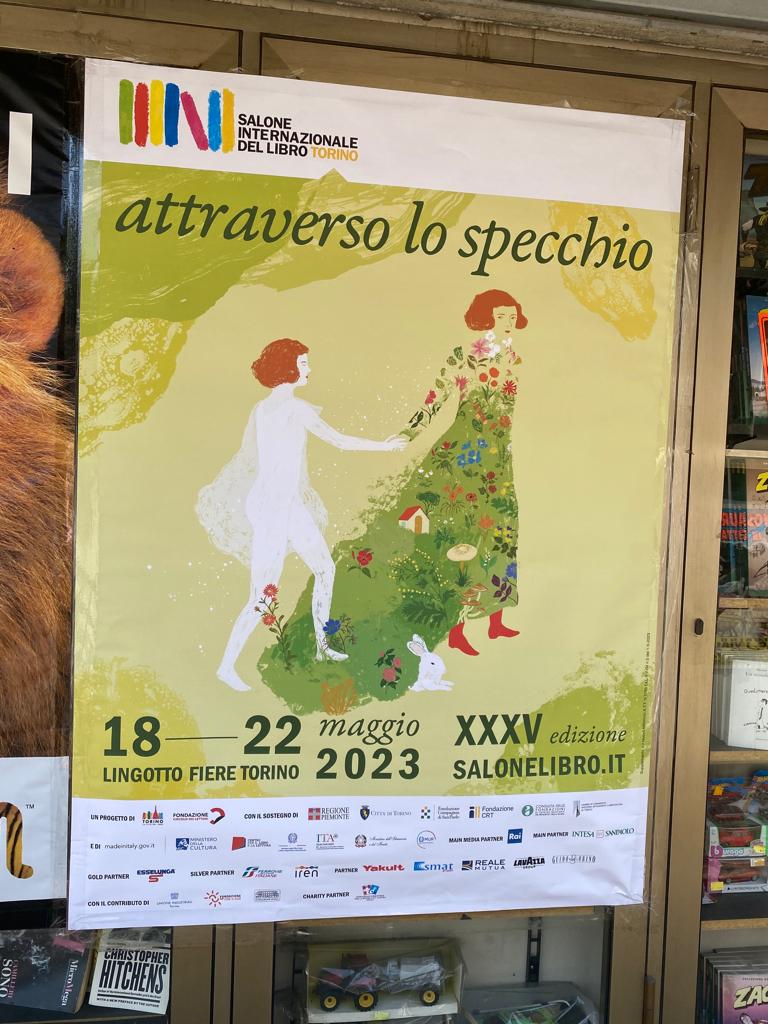 Bene, e se vi dicessimo che questo luogo non solo esiste, ma che per raggiungerlo non avrete bisogno di nessuno specchio magico? Sarà per voi sufficiente, infatti, partecipare alla XXXV edizione del Salone Internazionale del Libro che si terrà, come ogni anno, a Torino tra giovedì 18 maggio e lunedì 22 maggio.

Nato nel 1988, il Salone Internazionale del Libro è il più importante evento dell'editoria italiana e coinvolge i più importanti attori del settore (editori, autori, librai, bibliotecari, docenti e studenti), con lo scopo di promuovere la lettura e la cultura, affrontando temi di attualità, come la sostenibilità ambientale, l'uguaglianza di genere, la diversità culturale, ecc.

Quest'anno il titolo dell'edizione è proprio "Attraverso lo specchio", in omaggio all'universo meraviglioso di Lewis Carroll: un invito ai lettori a viaggiare attraverso i mondi fantastici che la letteratura ci offre, raccogliendo in questo modo nuovi strumenti per interpretare la realtà che ci circonda.

Un vero paradiso dei lettori che, oltre ad acquistare anche le ultimissime pubblicazioni, avranno la possibilità di assistere a un ricco programma che prevede 2.000 ospiti da ogni parte del mondo per più di 1400 eventi, tra presentazioni, incontri e dibattiti. Il Salone del libro organizza anche attività per i bambini, come laboratori creativi e spettacoli, per coinvolgere anche i più piccoli nel mondo della lettura.

Per consultare nel dettaglio il programma e per avere maggiori informazioni potete fare riferimento al sito
ufficiale del Salone.

Non ci resta che salutarci e darci appuntamento oltre lo specchio!
Tantissimi eventi a Torino, scopri tutto ciò che la città ha da offrire:

The Leonardo da Vinci partner School is situated in the Crocetta residential district of Turin.
The welcoming friendly atmosphere of our school will make you feel at home and you can relax with your classmates in the small gardens of the adjacent pedestrian area.

Latest posts by Scuola Leonardo da Vinci Turin (see all)