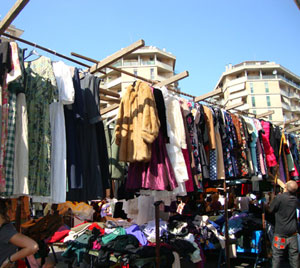 Re dei mercati (non alimentari) di Roma è senza dubbio il mercato Porta Portese, per chi non lo conoscesse si estende lungo via Portuense e piazza Ippolito Nievo. Porta Portese dal 1945 a oggi continua ad animare le domeniche della capitale. È un pezzo di storia di Roma anche se della romanità di un tempo, è rimasto ben poco. Ci sono ancora le bancarelle storiche gestite sempre dalle dalla stessa famiglia, ma sono molti anche i commercianti nuovi e che vengono da tutto il mondo. Accanto ai mobili antichi, ai dischi in vinile e alla chincaglieria, poi, c'è il banchetto hi-tech o di oggetti per la casa.
Per chi invece non ama il caos e vuole andare alla ricerca di mercatini più specializzati, vicino a villa Borghese c'è Borghetto Flaminio, un vero e proprio luogo di culto per gli amanti del vintage e della moda retrò. Abiti, borse, scarpe, gioielli, ma anche mobili, oggetti d'antiquariato, dischi in vinile; ce n'è per tutti i gusti e per tutte le tasche. Il mercato riunisce infatti gente che decide di disfarsi del proprio guardaroba prendendo in affitto uno spazio di vendita, ma anche esperti rigattieri e collezionisti.
Vero e proprio "mercatino delle pulci" è invece la Soffitta Sotto I Portici a piazza Augusto Imperatore, dedicato ai collezionisti di monete, divise, quadri, stampe, ceramiche antiche, stoffe, pizzi  e merletti.
Ma non finisce qui: antiquariato, collezionismo, abbigliamento, artigianato e pittura si trovano ogni prima domenica del mese ai mercatini di piazza Caprera e di Ponte Milvio; ogni  seconda domenica ai mercatini di Piazza Mazzini e di villa Glori; ogni terza domenica al mercatino di Piazzale delle Medaglie D'Oro.
Ci sono poi gli urban market al chiuso, come il mercato Monti, che riunisce insieme artisti indipendenti, giovani designer, stilisti e artigiani, oltre che boutique di modernariato.
Decisamente particolari sono il mercatino vintage al Circolo degli Artisti o quello al Lanificio, aperti dalle 11.00 alle 22.00. Qui si respira aria di creatività e originalità, grazie anche alla presenza di artisti e designer d'oltreoceano. Per chi ama partecipare in modo attivo il Lanificio organizza anche gli "Swap Party", la festa del baratto nata a New York, e diffusasi  in poco tempo in tutte le capitali europee. Alla cifra simbolica di 3 euro si possono scambiare 10 pezzi e per 5 euro si scambiano fino a 30 pezzi, tutto questo ascoltando musica, facendo un bel brunch domenicale o prendendo un aperitivo serale. Che volete di più?

City of God, the Sacred City, the City of the Seven Hills or simply… Rome!

The Eternal City has known it all. Victory and defeat, joy and tragedy, glory and humility marked Rome's history, culture and architecture. A magical place with vibrant, timeless lifestyle with countless secrets waiting to be discovered.

The Scuola Leonardo da Vinci is situated in the centre of Rome, in the pedestrian area, halfway from the astounding Piazza Navona, Castel S. Angelo and St. Peter Basilica. It is one of the largest schools in Rome.

We, from Leonardo da Vinci School have one mission – to introduce you to this exciting urban symphony. Every year thousand of students from more than 90 countries jump into this adventure hand in hand with us. Leonardo da Vinci School is not only leading language institute, but centre of Italian culture and lifestyle. We match our vast experience with our student' eagerness to know and learn and together we make it happen.





Latest posts by Scuola Leonardo da Vinci Rome (see all)