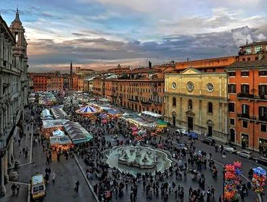 Roma è meravigliosa, quando poi arriva Natale lo è ancora di più. Si veste a festa con tutti i suoi addobbi, le luci colorate, e l'immancabile mercatino di Natale di piazza Navona.
La splendida piazza, orgoglio dell'arte barocca, si trova proprio a due passi dalla Scuola Leonardo Da Vinci di Roma, quindi dal primo dicembre al sei gennaio, chiunque di voi si trovi a Roma per studiare italiano o anche solo per turismo, non può non approfittarne per curiosare un po' tra artigianato italiano e dolci natalizi.
L'appuntamento si rinnova ormai da oltre 100 anni. Inizialmente la piazza, costruita sui resti dello stadio Domiziano, ospitava un mercato rionale. Dal dopoguerra sino a oggi ha mantenuto la sua vocazione popolare ospitando pittori, ritrattisti e artisti di strada.  A Natale però la piazza si trasforma in un luogo magico, dall'atmosfera fiabesca. Ci sono Befane e Babbi Natali che si esibiscono in piccoli spettacoli, artisti circensi e mangiatori di fuoco, ma anche artigiani di tutta Italia che vendono le loro creazioni. Insomma negli anni non sono andati persi né l'aspetto tradizionale, né quello ludico.
Tra le bancarelle del mercatino troverete dolci natalizi, decorazioni per l'albero, statuine del presepe dipinte a mano, zucchero filato e mele caramellate per i più golosi. Ma la protagonista indiscussa resta la Befana, la famosa strega che la notte del 6 gennaio vola su una scopa ed entra nelle case dei bambini italiani, riempiendo le calze di dolci o carbone.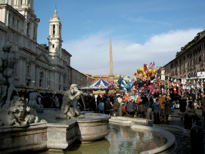 Appuntamento fisso che i bambini non dimenticano mai è inoltre il giro sull'antica giostra.  Posta vicino al presente, proprio nel centro della piazza, le carrozze e i cavallucci  sembrano quasi voler fare da contrasto con la placida presenza della fontana del Bernini.
Anche se i romani sono senza dubbio affezionati al caro vecchio mercatino di Piazza Navona, bisogna ricordare altri interessanti appuntamenti come quello all'Auditorium Parco della Musica che ospita la pista di pattinaggio e la casetta di Babbo Natale o i mercatini di Piazza Mazzini nel quartiere della Vittoria, di Piazza Verdi nel quartiere Pinciano e di Piazza Caprera nel quartiere Trieste.
Insomma se visitate Roma, siete fortunati, se la visitate a Natale, lo siete ancora di più!
Continutate a seguire il Calendario dell'Avvento della Scuola Leonardo da Vinci: http://advent-calendar.scuolaleonardo.com
---
Photo credits per la copertina: http://hotelroma.stgeorgehotel.it/2010/10/26/festeggiate-la-magia-del-natale-a-roma/

City of God, the Sacred City, the City of the Seven Hills or simply… Rome!

The Eternal City has known it all. Victory and defeat, joy and tragedy, glory and humility marked Rome's history, culture and architecture. A magical place with vibrant, timeless lifestyle with countless secrets waiting to be discovered.

The Scuola Leonardo da Vinci is situated in the centre of Rome, in the pedestrian area, halfway from the astounding Piazza Navona, Castel S. Angelo and St. Peter Basilica. It is one of the largest schools in Rome.

We, from Leonardo da Vinci School have one mission – to introduce you to this exciting urban symphony. Every year thousand of students from more than 90 countries jump into this adventure hand in hand with us. Leonardo da Vinci School is not only leading language institute, but centre of Italian culture and lifestyle. We match our vast experience with our student' eagerness to know and learn and together we make it happen.





Latest posts by Scuola Leonardo da Vinci Rome (see all)