We just came across an interesting article that explain why Milan is the perfect city to live in; wanna know more? Read our brief resume about.
The new skyline of Milan is the sign of a urban transformation but Gae Aulenti square, Unicredit tower are also the surface of a more inner change of the city soul.
The economy of the city gets better and makes Milan a valuable competitor to other European capitals. Nightlife and cultural events increase rapidly and the new exciting trend develops relations among multicultural citizens of the city.
It is good to see how Milan has been progressing not only in business sector but also in cultural tourism after the economic crisis. For sure, 2015's EXPO helped achieving this goal.  Now the real task of the city is to maintain this trend.
Companies and Institutions develop new projects that focus them on social issues like housing for immigrants and cultural associations trying to improve life's conditions of needy people and encouraging their adaptation inside society. Old buildings are being renovated and becoming the stage of new cultural projects like 'BASE'; the new name of Ansaldo Area placed in the dynamic Zona Tortona.
Trying to solve the problem of pollution, Milan encourages the services of car sharing and bike sharing like 'enjoy', 'car2go', 'BikeMi'. These projects appear to be having a good appeal among citizens and this is a good start to spread a 'green vision' for a better life inside the city.
Thanks to this positive atmosphere spreading among youngsters -most of them under 20- new cultural projects are started by them. Though, they still need the support of the older generation.
Meanwhile, tourism is doubled and EXPO haven't accomplished it alone: latest cultural events those managed to arouse attention of visitors have played a major role in it. Among these events there is '5x15', an interesting project in which 5 person speak about a every day life topic, giving to the public new possible points of view.
Furthermore this positive revolution takes place in a beautiful and historical city. It is time to travel to Milan!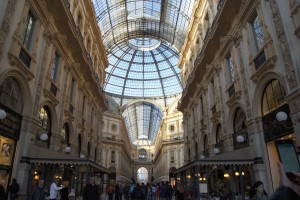 Scuola Leonardo da Vinci Milan is located in the city center in "Crocetta" district known for its liveliness, style and culture attractions.

Thanks to its prestigious universities and academies, Milan is the elected place of education for numerous Italian and international students.
Latest posts by Scuola Leonardo da Vinci Milan (see all)