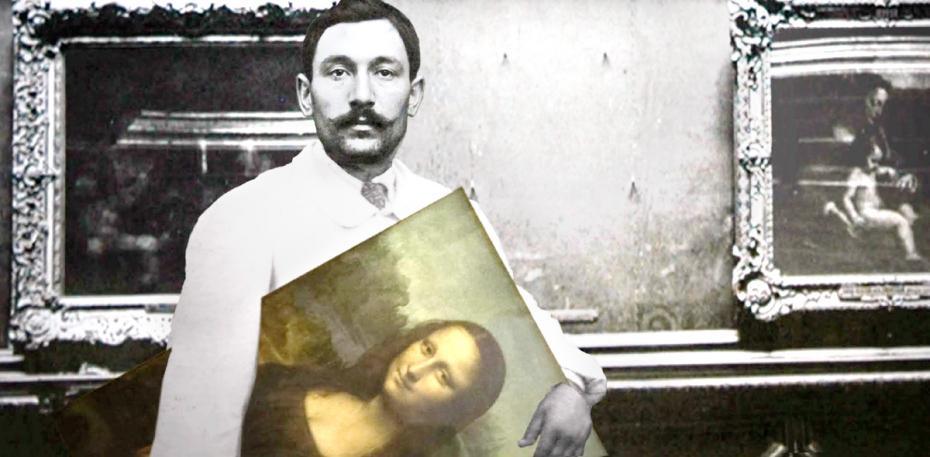 Cronaca del furto più famoso della storia

Parigi, museo del Louvre, 22 agosto 1911.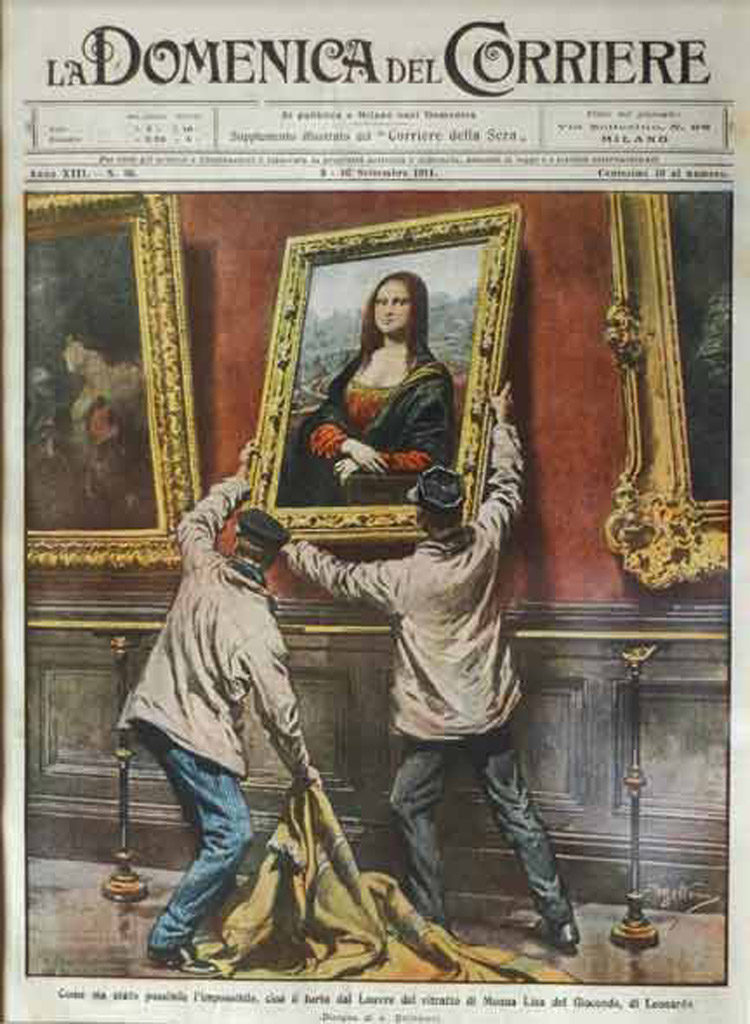 I pittori Louis Béroud e Frederic Languillerme hanno avuto il permesso di copiare la Monna Lisa. Vanno nel Salon Carré, ma il quadro non c'è. Chiedono informazioni agli operai che lavorano nel museo, ma questi rispondono che anche il giorno precedente il quadro non c'era. Forse è stato preso per una seduta fotografica. I due pittori, però, avvertono il direttore del museo, che denuncia alla polizia: la Gioconda è scomparsa. Il Louvre viene chiuso. Ufficialmente è un problema idraulico. Vengono interrogati 250 di operatori del museo, controllate centinaia di case, ma il quadro non si trova. Inizia immediatamente il processo, i giornalisti accusano di un complotto per far cadere il Presidente della Repubblica francese.
Parigi, 7 settembre 1911.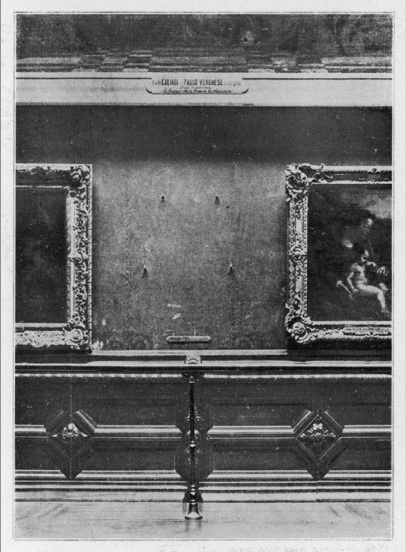 Viene arrestato il poeta Guillaume Apollinaire. Due giorni dopo viene convocato in tribunale Pablo Picasso, amico del poeta polacco, ma Apollinaire rimane in prigione ancora per una settimana. I due amici sono accusati perché precedentemente avevano comprato delle statue iberiche da Honoré Geri Pieret, che le aveva rubate al Louvre. Alla fine sono entrambi liberi. I Parigini iniziano a portare fiori al posto, rimasto vuoto, della Gioconda.

Firenze, hotel Tripoli, 11 dicembre 1913.
Il direttore degli Uffizi Giovanni Poggi riceve un certo Monsieur Léonard V, che vuole restituire il quadro all'Italia per 500.000£. Nell'attesa di tornare in Francia, la Monna Lisa viene esposta a Firenze e a Roma. M. Léonard viene arrestato.

Tribunale di Firenze, 5 giugno 1915.
M. Léonard, alias Vincenzo Peruggia, viene condannato a 7 mesi e 8 giorni di prigione.
I fatti

Vincenzo Peruggia è un imbianchino di Varese. A 26 anni emigra a Parigi, dove trova lavoro nella ditta del signor Gobier con il compito di pulire i quadri del museo del Louvre. Vincenzo non è felice a Parigi, ha nostalgia dell'Italia, i suoi colleghi lo prendono sempre in giro, lo chiamano "macaroni", e ogni giorno, mentre cammina per le sale del museo, pensa a tutte le opere che Napoleone ha rubato all'Italia. Decide così di agire. Il 21 agosto 1911 entra nel museo da una porta usata solo dai lavoratori, la porta J. Goujon. È presto, sono circa le 7 e il museo è vuoto. Arriva nella sala Salon Carré, afferra la Monna Lisa, la copre con il suo blouson e torna indietro. Ma la porta Goujon è chiusa e il quadro è troppo grande per passare inosservato. Toglie la cornice al quadro e la lascia per le scale. Forza la porta, ma la maniglia si rovina. Esce dal museo, butta la maniglia nel fossato del Louvre e prende l'autobus, ma nella direzione sbagliata, così è costretto a tornare indietro e cambiare autobus. Lascia il quadro a un vicino, Vincenzo Lancellotti, e torna a lavoro. Giustifica il suo ritardo, circa 4 ore, dicendo di essersi ubriacato la sera prima e di stare ancora male. Durante le indagini la polizia va anche a casa di Peruggia, ma non trova niente, perché Vincenzo ha abilmente nascosto il quadro in una scatola fissata sotto il tavolo della cucina. Quando Vincenzo torna in Italia cerca di vendere la Gioconda, ma cade in una trappola del direttore degli Uffizi e viene processato. Durante il processo Peruggia ripete sempre di aver agito per patriottismo e vendetta contro le "spoliazioni napoleoniche", il furto di opere preziose durante l'era napoleonica. Il tribunale di Firenze lo giudica colpevole e lo condanna alla prigione, mentre la Gioconda, sempre più famosa, torna legittimamente in Francia.
Per saperne di più:
FILM: "L'uomo che rubò la Monna Lisa", regia di Fabrizio Costa, 2006
"Il ladro della Gioconda", regia di Michelle Deville, 1966
LIBRI: Jean-Yves Le Naour, Il furto della Gioconda

City of God, the Sacred City, the City of the Seven Hills or simply… Rome!

The Eternal City has known it all. Victory and defeat, joy and tragedy, glory and humility marked Rome's history, culture and architecture. A magical place with vibrant, timeless lifestyle with countless secrets waiting to be discovered.

The Scuola Leonardo da Vinci is situated in the centre of Rome, in the pedestrian area, halfway from the astounding Piazza Navona, Castel S. Angelo and St. Peter Basilica. It is one of the largest schools in Rome.

We, from Leonardo da Vinci School have one mission – to introduce you to this exciting urban symphony. Every year thousand of students from more than 90 countries jump into this adventure hand in hand with us. Leonardo da Vinci School is not only leading language institute, but centre of Italian culture and lifestyle. We match our vast experience with our student' eagerness to know and learn and together we make it happen.





Latest posts by Scuola Leonardo da Vinci Rome (see all)