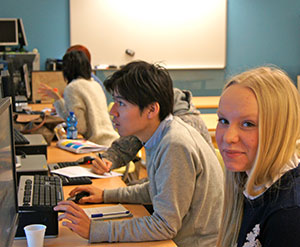 L'inizio di EXPO 2015 a Milano è sempre più vicino! Qui a Scuola Leonardo da Vinci stiamo preparando tante attività per farvi partecipare al meglio a questo grande evento!
Prima però vi aspetta un po' di lavoro in classe per capire meglio di cosa si parlerà in questo grande meeting internazionale!
Ecco la ricerca di un gruppo di studenti di livello 6 e la loro presentazione video: punto di partenza lo slogan di EXPO 2015 'Nutrire il pianeta, energia per la vita'.
Il cibo è stato analizzato sotto 4 punti di vista:
- CIBO E MEDIA Naohisa, Giappone
- SCELTE CONSAPEVOLI E STILI DI VITA SOSTENIBILI Anastassia, Russia
- MENS SANA IN CORPORE SANO Yoko, Giappone - Inna, Ucraina
- RAPPORTO TRA CIBO E ARTE Yoshi, Giappone
Un grazie a tutti gli studenti e all'insegnante Veronica Terragno per la collaborazione!
Scuola Leonardo da Vinci Milan is located in the city center in "Crocetta" district known for its liveliness, style and culture attractions.

Thanks to its prestigious universities and academies, Milan is the elected place of education for numerous Italian and international students.
Latest posts by Scuola Leonardo da Vinci Milan (see all)