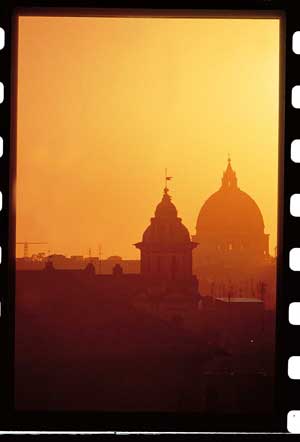 Raise your hand if you have never taken a picture at the end of a school course. Come on! We've all done it at least once and cherish those memories ever after. That's why Scuola Leonardo da Vinci in Rome is launching its first best picture contest open to current students, former students, friends, relatives, in a word, to everybody. Whatever subject you choose is welcomed as long as it is related to Rome and/or to our school activities (classes, dinners, excursions etc. etc.). And it's not just for the fun of it. The winner will receive one free week standard course to be used at our school in Rome between November 2009 and November 2010. The second prize is a 15 euro voucher for a Tuesday evening dinner at the GLUB. A brand new school textbook will be given to the proud third place. What is more, all the best pictures will be posted on our facebook page.
If you want to participate, please send your picture in jpeg format to rome@scuolaleonardo.com .
No more than a few at a time otherwise our computers might experience a nervous breakdown!

City of God, the Sacred City, the City of the Seven Hills or simply… Rome!

The Eternal City has known it all. Victory and defeat, joy and tragedy, glory and humility marked Rome's history, culture and architecture. A magical place with vibrant, timeless lifestyle with countless secrets waiting to be discovered.

The Scuola Leonardo da Vinci is situated in the centre of Rome, in the pedestrian area, halfway from the astounding Piazza Navona, Castel S. Angelo and St. Peter Basilica. It is one of the largest schools in Rome.

We, from Leonardo da Vinci School have one mission – to introduce you to this exciting urban symphony. Every year thousand of students from more than 90 countries jump into this adventure hand in hand with us. Leonardo da Vinci School is not only leading language institute, but centre of Italian culture and lifestyle. We match our vast experience with our student' eagerness to know and learn and together we make it happen.





Latest posts by Scuola Leonardo da Vinci Rome (see all)