Ciao a tutti! E' appena passata la Pasqua e pubblichiamo volentieri il contributo del nostro Leo, studente tedesco alla nostra Scuola di Milano, insieme a una bella foto dell'uovo di cioccolato gigante che i nostri fantastici studenti ci hanno regalato! Buona lettura a tutti.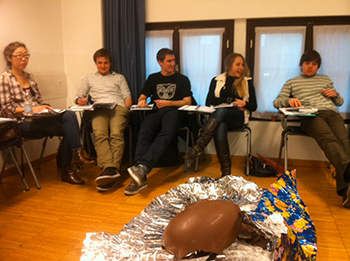 Die vergangenen Osterfeiertagte habe ich daheim in Deutschland verbracht, nachdem ich die Sekretärinnen fragte, ob es in Ordnung gehe über ein paar Tage wieder in die Heimat zu fahren. Dies war gar kein Problem und so bin ich dann auch schon mit dem Zug am Gründonnerstag von Mailand Hauptbahnhof über Zürich nach Stuttgart gefahren. Allgemein sagen die Italiener, dass das Bahnfahren und der ÖPNV wirklich nicht verlässlich seinen, und man Glück haben muss, pünktlich, oder überhaupt, mit den öffentlichen Verkehrsmitteln an seinem Ziel anzukommen.  Ich jedoch hatte bisher, nach insgesamt 3 Bahnfahrten zwischen italienischen Städten, einer Busfahrt von Siena nach Mailand, und zahlreichen innermailändischen Bus- und U-Bahnfahrten, noch keine Probleme oder Verspätungen erlebt. Dass ich jedoch ein oder zwei mal vergeblich auf meinen Bus warten musste, will ich aber nicht verschweigen. Wenn man also nicht gerade an einem Freitag auf die öffentlichen Verkehrsmittel angewiesen ist, an denen allgemein bekannt, sehr oft Streiks stattfinden, läuft es nach meiner bisherigen Erfahrung wirklich sehr gut. Und dass ab und zu mal ein Bus ausfällt, oder wie an der Tafel der Haltestelle geschrieben steht "in coda", also "im Stau", passiert sogar auch mal in der größten Industriestadt Italiens.
In Deutschland habe ich dann die Ostertage normal entspannt mit der Familie verbracht, und mich auch mit meinen Kumpels getroffen, die ich seit mindestens einem Monat nicht mehr gesehen habe. Nach dem Osteressen am Karfreitag und der Ostertorte am Sonntag, gings dann auch am Montag in der Früh wieder zurück nach Mailand. Und es hat sich gelohnt um 4 aufzustehn! Denn über 6 Stunden für 525km, über die Alpen, mit 2 Pausen kann man nicht meckern. An Schlafmangel leidend habe ich dann nachmittags erstmal einen Mittagsschlaf gemacht, der sich aber unerwarteter Weise bis vorhin um halb 10 gezogen hatte. Mit schlechtem Gewissen, da ich es vergessen hatte mir den Wecker zu stellen, bin ich dann noch los zur Schule. Das Gewissen aber, habe ich mir vollkommen umsonst gemacht, da ich wirklich wieder sehr herzlich empfangen wurde. Hier ist einfach jeder total nett, ob Lehrer, Sekretärin oder Schüler. Ich bin gespannt, was mein Praktikum, welches ich  Ende des Monats beende, noch für mich offen hält. Ich freue mich noch auf meinen letzten Monat hier in Mailand und kann diese Erfahrung hier, die man auch nur in einigen Wochen hier, in dieser Stadt und auch dieser Schule machen kann, nur jedem wünschen.
Scuola Leonardo da Vinci Milan is located in the city center in "Crocetta" district known for its liveliness, style and culture attractions.

Thanks to its prestigious universities and academies, Milan is the elected place of education for numerous Italian and international students.
Latest posts by Scuola Leonardo da Vinci Milan (see all)