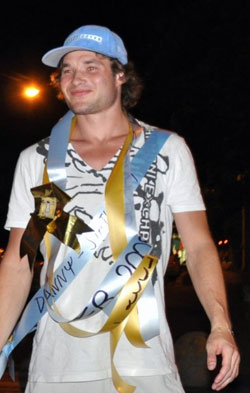 Every year the school hosts both the "Miss and Mister Scuola Leonardo Da Vinci Contests" as a fun way for students to give special recognition to their friends and classmates for their effort in learning Italian.   Again, there was a large showing of people who came to the event. Some people already knew each other from their morning and afternoon lessons, but there were many new faces who participated too.  New students and veteran students of all ages, friends of Scuola Leonardo Da Vinci  and other Italian people from Milan all came out for the event.   Overall the event was a success and another great way for everyone to come together, have fun and meet new friends.
Like the 2009 Miss Contest, there were 15 potential "Misters" representing many different countries like: India, Brazil, Panama, United States, Italy, Germany, Holland, Poland, Israel, Norway, Mexico and Switzerland.  Each "Mister" took one individual walk for the audience and then all 15 contestants walked together for one final chance to salute the crowd before everyone had to start narrowing down who they thought should win.
All the contestants were wonderful.  Everyone had great charisma and energy especially Alexander Cintelli from Norway and Leonardo Milano from Brazil.  They both had come out towards the end of the contest to a roar of applause.  The crowd really loved them.  And after the votes came in, that is why they undoubtedly took 3rd and 2nd runner up.  All the votes for 1st, 2nd and 3rd place were extremely close, but at the end of the night the title of "Mister Scuola Leonardo Da Vinci 2009" went to Danny from Chicago.
He was very surprised that he ended up winning.  After he assumed the official crown he said, " I was not expecting this, but thank you to all of you who were kind enough to vote for me….I really enjoyed meeting and learning Italian with all of you during my time here at our Italian language school in Milan.  Thanks Again!"
Each winning contestant received prizes that were generously donated by Roby and the Mayflower Pub.   We want to thank all the wonderful contestants, students and friends of  Scuola Leonardo and the local Milan community for there participation.
Be sure to check in next year to see who wins both the Miss and Mister Contest for 2010.  Or better yet, come and learn Italian here at Scuola Leonardo in Milan so you can be apart of these and other fun events.
Do you want to see some pictures of the event? Take e look to our Facebook page!
Scuola Leonardo da Vinci Milan is located in the city center in "Crocetta" district known for its liveliness, style and culture attractions.

Thanks to its prestigious universities and academies, Milan is the elected place of education for numerous Italian and international students.
Latest posts by Scuola Leonardo da Vinci Milan (see all)