Giovedì 13 febbraio alla Scuola Leonardo da Vinci di Milano abbiamo passato un pomeriggio speciale.
Ci siamo riuniti tutti dopo le lezioni di lingua per saperne di più sul carnevale italiano e qualcosa che insieme alle maschere lo caratterizza in tutto il mondo…i dolci di carnevale!
Chiacchiere, frittelle, graffe, pignolata…per ogni regione un dolce tipico; tutti da conoscere ma soprattutto …da assaggiare!
Gli studenti hanno avuto l'opportunità così di conoscere meglio il nostro Paese, ancora una volta grazie alle sue  prelibatezze che tentano tutti i palati.
Ma non è stata solo un' allegra merenda, grazie a qualche ricerca ci siamo raccontati la storia della tradizione del Carnevale scoprendo come cambiano i suoi festeggiamenti nel mondo.
E per finire, guardando qualche video, abbiamo cominciato a viaggiare per tutte le città italiane che si preparano ai festeggiamenti.
Viareggio con le parate dei carri più popolari, Ivrea con la battaglia delle arance e la stupenda Venezia colorata ancora una volta dalle maschere più romantiche e barocche.
A questo punto aspettiamo tutti impazienti la prossima gita a Venezia  il 22 febbraio e intanto cominciamo a pensare ai travestimenti da indossare!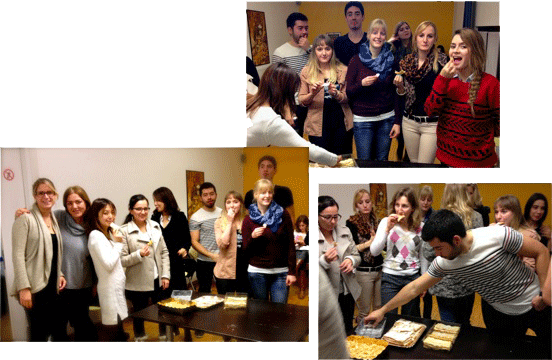 Scuola Leonardo da Vinci Milan is located in the city center in "Crocetta" district known for its liveliness, style and culture attractions.

Thanks to its prestigious universities and academies, Milan is the elected place of education for numerous Italian and international students.
Latest posts by Scuola Leonardo da Vinci Milan (see all)