Il concerto del primo maggio si avvicina ormai alla trentesima edizione, il primo concerto infatti risale al 1990.
È organizzato dai tre principali sindacati dei lavoratori (CGIL, CISL, UIL) con l'obiettivo di ricordare e festeggiare il giorno dedicato al lavoro e ai lavoratori, a chi ha un lavoro e a chi ancora lo cerca.
Il luogo è Piazza San Giovanni dove si concentrano dalle 600 alle 800 mila persone, per ascoltare musica e ballare in quello che viene descritto come il più grande evento di musica dal vivo gratuito in Italia.
È una festa che parte nel primo pomeriggio e va avanti senza sosta fino a notte inoltrata in un luogo unico, con il palco allestito accanto alla facciata della basilica di San Giovanni in Laterano, e con l'immagine suggestiva della folla che balla seguendo i ritmi proposti dai vari artisti, davanti ai marmi del barocco.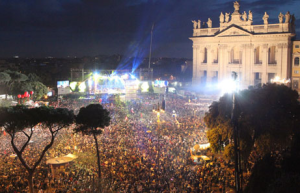 La maggior parte degli artisti sono italiani, ma di solito ci sono alcuni ospiti stranieri (tra questi Bob Geldof e Miriam Makeba nel 1990, Robert Plant e Iron Maiden nel 1993, Sinead O'Connor e Blur nel 1997, Alanis Morisette e Lou Reed nel 2000 e quest'anno Skunk Anansie).
Dal 2013 al concerto di Roma si è aggiunto il concerto di Taranto.
Anche qui si ritrovano artisti italiani che animano un evento che sta diventando un appuntamento importante, dal momento che si svolge in una città del sud che è stata in passato uno dei principali poli industriali italiani (soprattutto grazie all'attività delle acciaierie dell' ILVA) e che a maggior ragione rappresenta ora, con l'alta percentuale di disoccupati conseguenza della crisi industriale, il simbolo della difficoltà del mondo del lavoro e del sud d'Italia.

City of God, the Sacred City, the City of the Seven Hills or simply… Rome!

The Eternal City has known it all. Victory and defeat, joy and tragedy, glory and humility marked Rome's history, culture and architecture. A magical place with vibrant, timeless lifestyle with countless secrets waiting to be discovered.

The Scuola Leonardo da Vinci is situated in the centre of Rome, in the pedestrian area, halfway from the astounding Piazza Navona, Castel S. Angelo and St. Peter Basilica. It is one of the largest schools in Rome.

We, from Leonardo da Vinci School have one mission – to introduce you to this exciting urban symphony. Every year thousand of students from more than 90 countries jump into this adventure hand in hand with us. Leonardo da Vinci School is not only leading language institute, but centre of Italian culture and lifestyle. We match our vast experience with our student' eagerness to know and learn and together we make it happen.





Latest posts by Scuola Leonardo da Vinci Rome (see all)