The tradition of Black Friday has arrived in Italy. In the US tradition, Black Friday is the day after the Thanksgiving holiday, when consumers usually started to shop for Christmas. Over the last 20 years, big retailers have started to offer discounts and bargains on this day, and it has become more and more popular.
So popular that in Italy too we can find many offers on products and services for the Black Friday day and in the weeks before.
Scuola Leonardo Da Vinci has thought some special offers to learn Italian in two different ways: online on zoom platform (courses very appreciated in the last year and a half, read more: https://www.scuolaleonardo.com/italian-language-courses-online.html) or in Italy, in one of our beautiful destinations.
Choose the DEAL you prefer and ENROLL BEFORE NOVEMBER 26TH!
2 WEEKS OF INTENSIVE ONLINE COURSE
every day 4 lessons of 45 minutes, live course on the ZOOM platform.
In each group maximum of 14 students from all over the world. The lessons are very lively, engaging and interactive.
ENROLL NOW
8 WEEKS PART-TIME ONLINE COURSE
2 times a week (4 lessons per week). Live course on ZOOM platform.
In each group maximum of 14 students from all over the world. The lessons are very lively, engaging and interactive.
ENROLL NOW
1 WEEKS OF INTENSIVE COURSE IN ITALY!!!
Choose one of our destinations among Florence, Milan, Rome, Turin and Viareggio and come and spend a wonderful week in Italy!
Every morning you will have 4 Italian language lessons in the classroom and in the afternoon you can have fun with the activities we organize to visit the city, learn about Italian culture and art.
ENROLL NOW
More information: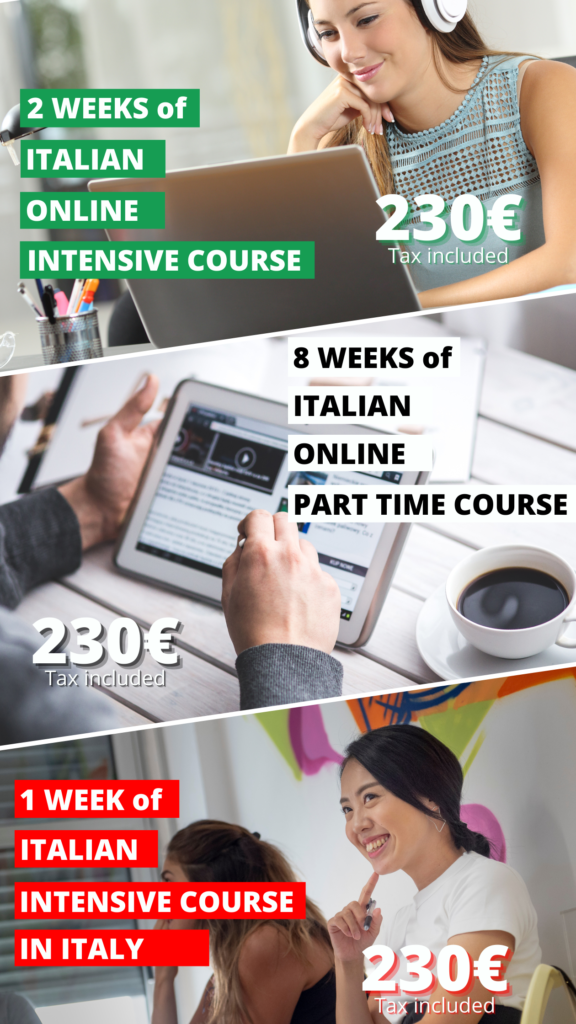 Italian Language Schools and Courses in Italy.
Learn Italian in Italy in Florence, Milan, Rome, Turin and Viareggio




Latest posts by Scuola Leonardo da Vinci (see all)