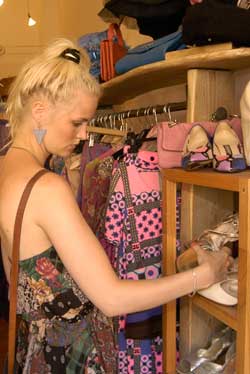 Are you a shopping addict or do you just need a new coat or a pair of shoes?
Either way, you must come to Milan now! The sale period that just started will continue until February 27th so this is your chance to buy your first griffe bag at a more than reasonable price. But you have to hurry!!!  In the first four days of sales more than 300,000 people visited Milan's main shops and shopping malls. It is estimated that each person spends around 400 to 500 Euro during the sales, so be prepared to wait in long lines.  However, if you have time, and if you are patient, you can take home some really amazing merchandise at up to 40 to 50 % off the regular prices.
Here are some ideas for how to best optimize your shopping schedule and itinerary without losing time.
First of all, if at all possible, avoid shopping on Saturdays and Sundays because of course these are the days when it will be the most crowded. The best days to go are Monday, Tuesday, and Wednesday, but remember that on Monday morning the shops in Milan are closed. Don't stop for lunch between 12:30 am. and 2:00 pm. This is the time when everyone in Italy eats.  Shops will have fewer employees on hand to help you and restaurants will be too crowded.  Only go in to shops that you are really interested in and that sell things you need to buy. Don't lose time looking too much at the shop windows. Dress casually and wear comfortable shoes as you will have to do much walking.  If you can, bring a backpack with you, especially if you need to buy some heavy things.  Always look well at the tags because sometimes the shops put out old collections and try to sell them as the latest ones.  Another thing that unfortunately can also happen is that a shop may change the first price, putting a higher one; in this way the discount they offer is less than it should be.
And last, but not least, if you don't speak any Italian, try to have some Italian language lessons first, or go with a friend who does. Unfortunately not all shop assistants speak English and they will not be able to help you. Now you are ready, so go shop and have fun !!!
More info about shopping in Milan.
Scuola Leonardo da Vinci Milan is located in the city center in "Crocetta" district known for its liveliness, style and culture attractions.

Thanks to its prestigious universities and academies, Milan is the elected place of education for numerous Italian and international students.
Latest posts by Scuola Leonardo da Vinci Milan (see all)