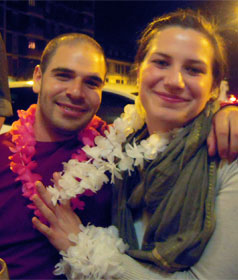 Finalmente è arrivato il caldo a Milano e Valentina, la nostra Activity Coordinator ha subito pensato di accogliere la bella stagione organizzando una frizzante
Festa Hawaiana al Mayflower Pub.
Collane di fiori colorate, un ricco aperitivo, dei deliziosi drink (naturalmente offerti dalla scuola) e una quarantina di studenti della Leonardo da Vinci di Milano, hanno reso la serata più che piacevole!
E' sempre così, ogni mese una festa diversa ma il risultato è lo stesso: una serata divertente insieme ai compagni di classe, allo staff e un'occasione in più per parlare italiano!
Perchè imparare l'italiano è anche questo, usare la lingua italiana come strumento
per fare amicizia.
L'italiano qui alla Leonardo (più dell'inglese ;D ): una lingua franca e una passione che accomuna tutti i nostri studenti!
Vi aspettiamo per il prossimo LDV PARTY!!
Scuola Leonardo da Vinci Milan is located right in the heart of the dynamic Navigli District just few steps away from the city center and main tourist attractions. There's no better place to dive inside the creative and innovative soul of Milan and relish the vibrant atmosphere around our Campus.




Latest posts by Scuola Leonardo da Vinci Milan (see all)