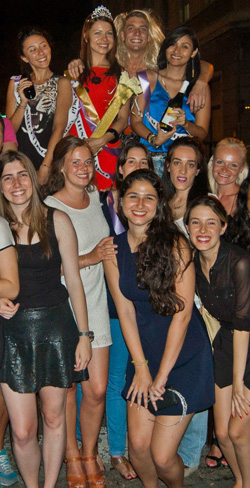 Mercoledì 19 Giugno la Scuola di italiano a Milano Leonardo da Vinci ha organizzato l'elezione di Miss Scuola Leonardo Da Vinci.  L'evento, molto divertente, ha riunito la maggior parte degli studenti e dei professori che hanno partecipato con grande entusiasmo. Tutte le ragazze hanno illuminato la sfilata con il loro sorriso e il loro buon umore. Il principio era semplicissimo: le ragazze sfilano e i ragazzi guardano e votano.
Le nostre miss, che venivano da tutte le parte del mondo, hanno rappresentato il loro paese con grazia. Non si trattava di un concorso di bellezza, ma lo scopo era di eleggere e premiare le tre ragazze più simpatiche della scuola. Ecco le nostre splendide vincitrici: al primo posto c'era una ragazza dalla Russia (Katherin Mas), al secondo posto una ragazza dal Brasile (Iana Chayamiti) e al terzo posto una ragazza dalla Turchia (Hazal Ozkan). Il nostro premio speciale è stato dato alla nostra miss "mooolto speciale" interpretata da Tim, storico studente australiano che ci ha fatto sorridere e divertire con la sua performance.
Ecco, qualche commento e impressione dei nostri studenti raccolti dalla nostra stagista francese, Amandine, anche autrice di questo articolo:
Eleni " era molto divertente, il più importante era che siamo stati tutti insieme."
Katherin, la prima Miss " era molto piacevole, e un'esperienza positiva, grazie a tutti".
Iana, la seconda Miss " è stato molto divertente e anche utile per conoscere tutti gli studenti ".
Scuola Leonardo da Vinci Milan is located in the city center in "Crocetta" district known for its liveliness, style and culture attractions.

Thanks to its prestigious universities and academies, Milan is the elected place of education for numerous Italian and international students.
Latest posts by Scuola Leonardo da Vinci Milan (see all)