This year we want to celebrate International Women's Rights Day by telling a little story of female empowerment through an iconic item of clothing: trousers.
The first Italian woman to wear a pair of trousers did so in Turin in March 1911. It caused a stir under the arcades of Piazza Carlo Felice and, to escape the teasing and shouts of passers-by, she was forced to hide until the evening in a perfume shop, then left using a back door. She wore a model of "jupes-culottes" (or skirt-pants) designed by the Parisian tailor Paul Poiret.
The first woman in history to wear trousers was Elizabeth Smith Miller, known as Libby, in 1851. The female outfit with trousers became famous thanks to the American activist Amelia Bloomers who published it in her magazine "The Lily" in 1855. Amelia suggested to the women to wear less "tight" clothes in favor of women's trousers, called in her honor Bloomers: they were very wide trousers, narrow at the ankle, with a short skirt on top. The idea was then revived in 1881 by viscountess Haberton, who founded The Rational Dress Society in England, a movement that replaced the use of women's dresses in the name of health and hygiene, proposing the use of wide trousers or pant-skirts.
Elizabeth Smith Miller and Amelia Bloomer were the first women who dared to appear in public with wide trousers and were accused of contempt of decency. They were insulted and hit with vegetables and snowballs by the men as they walked down the street.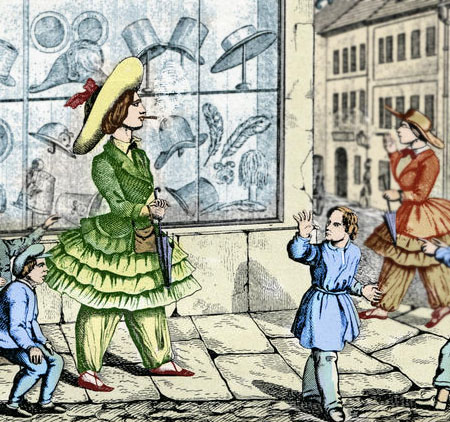 Even today in many countries of the world trousers are considered inappropriate in women's clothing.
Just to reflect on the social achievements, but also on the discrimination and violence that women have been and still are subjected to in every part of the world, it is important to celebrate March 8 every year.
Read the other articles with which we celebrated this day:

The Leonardo da Vinci partner School is situated in the Crocetta residential district of Turin.
The welcoming friendly atmosphere of our school will make you feel at home and you can relax with your classmates in the small gardens of the adjacent pedestrian area.

Latest posts by Scuola Leonardo da Vinci Turin (see all)