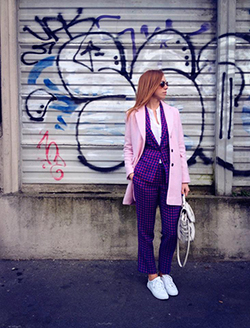 La nostra studentessa russa Anna Vlasova ci racconta la settimana della moda milanese; partite con noi per questo viaggio all'insegna del fashion!
"Si è appena conclusa la settimana della moda di Milano. Quest'anno ha causato molte polemiche riguardo ai movimenti degli stilisti da una casa di moda ad un' altra e, di conseguenza, ai risultati visti in passerella. Pantofole in pelo, strani ricami , mix di stampe incoerenti e anche, selezione delle modelle androgine, hanno costretto i fotografi a spostarsi in strada per i reportage sullo Street-Style.
Ecco dove c'è stato qualcosa da vedere: le ultime tendenze, insieme con gli accessori ben scelti, hanno fatto vedere la presenza della fantasia e del buon gusto negli ospiti delle sfilate.
Alcune maison sono rimaste fedeli al loro stile e alla storia del loro marchio, e hanno presentato modelli laconici ed eleganti che sono stati apprezzati anche dal pubblico più esigente.
Per il relax di editori e bloggers, durante tutta la settimana si sono tenute varie presentazioni e feste, dove lo champagne scorreva a fiumi, permettendo agli ospiti di apprezzare le nuovi collezioni.
In generale, la settimana della moda è un riflesso della società moderna, l'ispirazione con sei mesi di anticipo, e un motivo per uscire con i vestiti più incredibili!
Questa settimana nella moda ci si puo' permettere tutto!
Grazie ad Anna per l'articolo e a Tatiana per la segnalazione!
Scuola Leonardo da Vinci Milan is located in the city center in "Crocetta" district known for its liveliness, style and culture attractions.

Thanks to its prestigious universities and academies, Milan is the elected place of education for numerous Italian and international students.
Latest posts by Scuola Leonardo da Vinci Milan (see all)