Whoever said laughter was the best medicine has obviously never tried shopping, especially in Milan and especially during the sales! As the Milan Fashion Week approaches, take advantage of the sales season to treat yourself to some shopping. Here's a list of the most trendy areas to help you find your way around in the Italian Fashion Capital!
Corso Vittorio Emanuele II
Located right behind Piazza Duomo, Corso Vittorio Emanuele is one of the oldest streets in Milan. Between 1820 and 1830 the medieval houses were replaced by the more renowned buildings that we see today and the street soon became one of the most important shopping streets in Milan. Today Corso Vittorio Emanuele offers plenty of fashion choices and appeals to shopping addicts of all ages and budgets.
Corso Buenos Aires
Stretching between porta Venezia and Piazzale Loreto, with its 1600 meters and its 350+ shops, Corso Buenos Aires is one of the longest shopping streets in Europe. Originally, the street was called Corso Loreto, it then got renamed during the 1906 EXPO. As it features the highest concentration of clothing stores in Europe, you will definitely find your new favourite shop!
Via Torino
Connecting Piazza Duomo to the Navigli area, via Torino has always been a vibrant shopping street. Over the years, the artisans' workshops have been replaced by trendy shops and today it's particularly loved by young people, as it hosts cheaper shops and big international brands like Zara, H&M and Bershka.
Quadrilatero della moda
Literally translated into "quadrangle of fashion", the Quadrilatero della moda is a district enclosed by four streets: via Montenapoleone, via della Spiga, via Manzoni and Corso Venezia, in the north-eastern part of the city. This area is a crucial destination for luxury shopping, where high-end fashion boutiques alternate with breathtaking renowned buildings and glamorous cafes, for a full luxury experience.
La Rinascente
La Rinascente offers you the ultimate shopping experience. With its ten floors of men's and women's clothing and accessories, beauty products and a food court with a stunning view over Milan, you can quite literally get lost in the most famous department store in Milan, and be happy about it!
Vintage shops and boutiques
If you're a fan of unique pieces and pre-loved clothes, Milan is DEFINITELY the city for you! From the stylish Groupies Vintage near Porta Ticinese to the parisian atmosphere of Madame Pauline in Foro Buonaparte, the vintage experience in Milan won't disappoint you. Moreover, the East Market is a huge marketplace held periodically in eastern Milan where everyone can buy, sell and trade any kind of vintage furniture, oddities and clothing. It also has an online shop so you can browse around 24/7! Finally, if you fancy doing a good deed while shopping the most beautiful and affordable pieces, visit one of the three Humana Vintage charity shops located in the city centre.
Designer outlets
With a 15 minutes to an hour drive, you can easily reach the biggest outlet malls of Italy, where you'll be able to shop overstock, previous collections and off-season designer clothes for an excellent price. During the sales period, prices can go down up to 70%! Scalo Milano Outlet & More is located only 15 minutes from the city centre and sells brands like Karl Lagerfeld, Nike, Tommy Hilfiger e Levi's. Serravalle Designer Outlet is a bit further away but you can't miss the biggest outlet mall in Europe, selling brands such as Bulgari, Fendi, Roberto Cavalli, Moschino e North Sails. A special mention goes to Vicolungo the Style Outlet, located in Piedmont but particularly loved by the Milanese people.
More articles about Milan:
Studying Italian at the Scuola Leonardo da Vinci Milan:
Would you like to know more?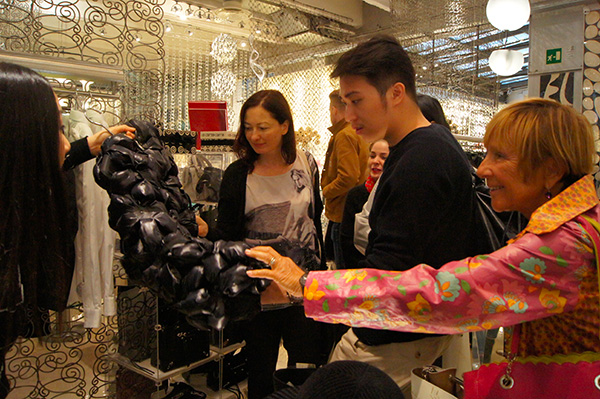 Scuola Leonardo da Vinci Milan is located in the city center in "Crocetta" district known for its liveliness, style and culture attractions.

Thanks to its prestigious universities and academies, Milan is the elected place of education for numerous Italian and international students.
Latest posts by Scuola Leonardo da Vinci Milan (see all)